Read Carefully
Hip Hop Book Club is back for Season 3 with a look at Jay-Z's The Blueprint. Nine months after wrapping up its second-season run the boys are back.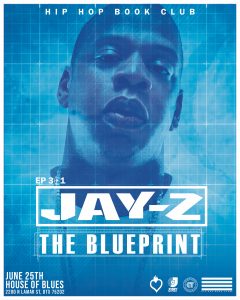 If you've never heard of Hip Hop Book Club you're missing out. This monthly event allows hip-hop heads to gather to break down classic and sometimes more current albums. The discussion centers around four pillars: Lyrics, Production, Visuals, and Influence. From there the dialogue fluctuates between the hosts (Attah Essien, Sobechi Ibekwe, Terrance Lee and Kenny Reeves), and crowd participation. The show returns this Tuesday, June 25, at the House of Blues with the focus of the night being Jay-Z's groundbreaking 2001 LP, The Blueprint.
The previous episodes have included albums by Drake, Kendrick Lamar, J. Cole, Young Jeezy, and many more. Since it's inception, Hip-Hop Book Club has been featured in Dallas based media outlets all the way to The Source. They have even taken the show on the road and have held discussions in Houston, DC, and NYU just to name a few.
Separately the hosts have a multitude of endeavors they are into. They are behind the widely popular Wings Day event that happens every Wednesday at Gators. They are also the curators of Trappiest Hour which takes place every Thursday, and the Good Culture podcast. If you are looking for an informative conversation mixed with a bit of turn up this is the place you need to be. RSVP for the event here.